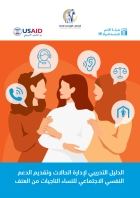 This training manual aims to build the capacity of service providers on case management and psychosocial support to women and girls' survivors of violence or exposed to its risk.
In collaboration with the European Union (EU), UN Women organized a regional partner event to present lessons learned from its programme "Strengthening the Resilience of Syrian Women and Girls and Host Communities in Iraq, Jordan and Turkey" funded through the EU Regional Trust Fund in response to the Syria Crisis, the 'MADAD' fund.
Qualitative studies about the women in the region and their success stories. The stories you are about to read are live testaments to the fact that indeed those are difficult times but they are also full of opportunities that generate in us the continuous commitment to the work we are doing, and to the struggle we so fondly take on.