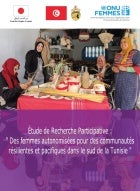 L'étude de recherche participative vient répondre aux questions suivantes: Quels sont les besoins des femmes et des jeunes filles au sud Tunisien? Quel est leur rôle dans la cohésion sociale et quelles sont les opportunités économiques pour elles? Elle vient proposer des pistes de solutions pour renforcer l'autonomisation des femmes et leur potentiel de résilience et leur rôle dans la cohésion sociale pour la prévention de l'extrémisme violent.
This rapid assessment examines how the impacts of COVID-19 are threatening women's ability to access justice. The assessment reflects challenges faced by women and girls of diverse backgrounds and socio-economic groups, including those experiencing overlapping disadvantages and those facing amplified challenges in humanitarian settings. Cross-regional and local experiences are highlighted, and quantitative data is utilized where available.
This brief paper jointly developed by UN Women and WHO summarizes principles and recommendations to those planning to embark on data collection on the impact of COVID-19 on violence against women and girls. It responds to the needs and challenges to adhere to methodological, ethical and safety principles in the context of the physical distancing and staying at home measures imposed in many countries.