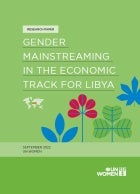 Women's economic empowerment is critical for sustainable peace and development in Libya. This study focuses on women's empowerment in the economic track of Libya's peace process. It considers the benefits of gender-mainstreaming and the normative framework that supports gender equality, including UN Security Council resolutions in relation to Libya and the Women, Peace and Security agenda, the peacebuilding framework for Libya and international human rights law.
The paper considers the under-representation of women in high-level mediation and peacemaking positions. Set in the context of successive normative commitments to increase the representation of women in high-level mediation, the paper considers why peace process mediation appears to be an outlier in the general trend towards gender parity in UN senior posts in particular.
UN Women's Regional Office for the Arab States, in collaboration with UN Women Country Offices in Iraq, Libya, and Yemen, organized a two-day meeting Women and Young People in Peace Processes: Synergies and Cross-learning, funded by the Government of Germany. The meeting was held in Beirut, Lebanon and sought to provide a space for inter-generational dialogue between women and young people from countries affected by the conflict in the MENA region, to exchange strategies that have been utilized to mitigate conflict, to broker dialogue and influence track 1 peace processes in the region. Through this exchange and dialogue, the meeting sought to identify opportunities for strategic alliances and to define common demands.