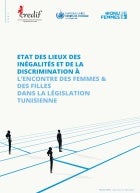 Le Bureau du Haut-Commissariat des Nations Unies aux Droits de l'Homme en Tunisie, l'ONU Femmes Tunisie et le Centre de recherche, d'études, de Documentation et d'Information sur la Femme(CREDIF) ont conjointement réalisé une étude relative à l'état des lieux des inégalités et de la discrimination à l'encontre des femmes et des filles dans la législation tunisienne en en 2016 puis mise à jour en 2021.
This week in Beirut, UN Women and the United Nations Economic and Social Commission for Western Asia launched a regional project to estimate the cost of violence against women as an instrument for policy reform and advocacy.
The Global Guidance, developed by UN Women and UNESCO, provides key information to governments, policy-makers, teachers, practitioners and civil society who wish to take concrete action against school-related gender-based violence. It introduces approaches, methodologies, tools and resources that have shown positive results in preventing and responding to gender-based violence in schools settings. It should contribute to further promote the generation of knowledge, evidence and standards of response against this pervasive problem.