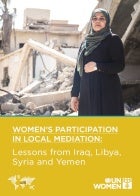 UN Women's new report "Women's Participation in Local Mediation: Lessons from Iraq, Libya, Syria, Yemen" sheds light on the diverse mediation roles women have played to resolve conflict and restore social cohesion in their communities.
In October 2019, hundreds of thousands of Lebanese people took to the streets to protest the imposition of new taxes and the worsening economic, social and political crises gripping the country.
This guidance note seeks to assist policy and programme actors to conduct rapid assessments that are fully responsive to gender and intersectionality. It is focused on three critical steps: the development of assessment surveys/questionnaires, their implementation, the analysis of findings and resulting recommendations.