Few Syrian refugee and Lebanese women participate in the labour force in Lebanon, often due to critical gender barriers: housework and childcare obligations. This is particularly true for low-income women, who participate in economic activities at lower rates than men and are often unable to afford home help. Inadequate or absent childcare services contribute to women's economic inactivity and serve as barriers that limit women's mobility.
This publication is produced by Musawah with support from UN Women within the framework of the 'Men and Women for Gender Equality' regional programme funded by Sweden. The policy brief outlines outlines how divorce provisions in many Muslim family laws are unfair and can be damaging to women and their children—but we can reform those laws.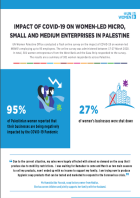 Amidst the COVID-19 pandemic, UN Women Palestine Office conducted a flash online survey on the impact of COVID-19 on women-led MSME's employing up to 95 employees. The online survey was administered between 17-27 March 2020. In total, 301 women entrepreneurs from the West Bank and Gaza responded to the survey. The infographic report shows a summary of 301 women respondents across Palestine.