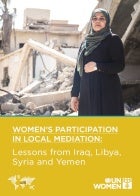 UN Women's new report "Women's Participation in Local Mediation: Lessons from Iraq, Libya, Syria, Yemen" sheds light on the diverse mediation roles women have played to resolve conflict and restore social cohesion in their communities.
The analysis included in this report builds upon data collected through the LEAP project and sought to provide evidence around key resilience issues.
This brief presents a summary of the results of the independent evaluation of UN Women's Strengthening the Resilience of Syrian Women and Girls and Host Communities ("Madad") programme and offers lessons and recommendations for future programming on gender equality and women's empowerment.