The analysis included in this report builds upon data collected through the LEAP project and sought to provide evidence around key resilience issues.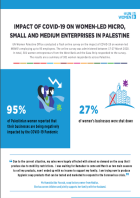 Amidst the COVID-19 pandemic, UN Women Palestine Office conducted a flash online survey on the impact of COVID-19 on women-led MSME's employing up to 95 employees. The online survey was administered between 17-27 March 2020. In total, 301 women entrepreneurs from the West Bank and Gaza responded to the survey. The infographic report shows a summary of 301 women respondents across Palestine.
This manual is a compilation of the series of activities, exercises and handouts on masculinities that were used in ABAAD's masculinities trainings. The importance of this manual is that it consolidates the experiences and skills that have been accumulated throughout past trainings into a tool that provides the required information needed for a skilled trainer to conduct trainings on Masculinities and Engaging Men. Furthermore, this manual is the first contextual and culturally validated...