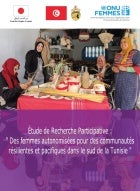 L'étude de recherche participative vient répondre aux questions suivantes: Quels sont les besoins des femmes et des jeunes filles au sud Tunisien? Quel est leur rôle dans la cohésion sociale et quelles sont les opportunités économiques pour elles? Elle vient proposer des pistes de solutions pour renforcer l'autonomisation des femmes et leur potentiel de résilience et leur rôle dans la cohésion sociale pour la prévention de l'extrémisme violent.
Palestine's Second National Action Plan for the implementation of United Nations Security Council Resolution 1325 (UNSCR 1325) on Women, Peace and Security and Subsequent Resolutions follows the first National Action Plan adopted in 2016 recognizing the disproportionate impact of conflict and occupation on Palestinian women and girls and their vital participation in peacebuilding.
In collaboration with the European Union (EU), UN Women organized a regional partner event to present lessons learned from its programme "Strengthening the Resilience of Syrian Women and Girls and Host Communities in Iraq, Jordan and Turkey" funded through the EU Regional Trust Fund in response to the Syria Crisis, the 'MADAD' fund.