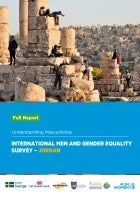 The study surveyed 2,400 Jordanian men and women aged 18-59, from 12 governorates across Jordan, as well as 512 Syrian men and women living in Amman, Zarqa, Irbid and Mafraq. The research also includes a qualitative component that involved 110 men and women who participated in 12 focus group discussions and 17 in-depth interviews.
This report on the proceedings of the global conference "Gender-inclusive peace processes: Strengthening women's meaningful participation through constituency building" explores current challenges, best practices, and recommendations on how best to leverage the practice of constituency building to further gender-inclusive peace.
This manual is a compilation of the series of activities, exercises and handouts on masculinities that were used in ABAAD's masculinities trainings. The importance of this manual is that it consolidates the experiences and skills that have been accumulated throughout past trainings into a tool that provides the required information needed for a skilled trainer to conduct trainings on Masculinities and Engaging Men. Furthermore, this manual is the first contextual and culturally validated...