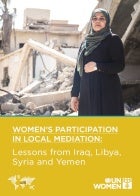 UN Women's new report "Women's Participation in Local Mediation: Lessons from Iraq, Libya, Syria, Yemen" sheds light on the diverse mediation roles women have played to resolve conflict and restore social cohesion in their communities.
This study and brief aim at providing insights on how gender and other intersecting inequalities impact the risk and vulnerability to HIV for women and girls in Africa.
The paper considers the under-representation of women in high-level mediation and peacemaking positions. Set in the context of successive normative commitments to increase the representation of women in high-level mediation, the paper considers why peace process mediation appears to be an outlier in the general trend towards gender parity in UN senior posts in particular.