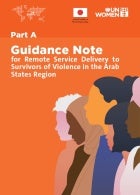 This toolkit is designed to support women-led civil society organisations (CSOs) in the Arab States region to strengthen their capacity to deliver remote services to survivors of violence against women and girls (VAWG).
These policy papers are developed within the framework of the Beijing+25 Review and the Generation Equality Forum. Given the pluralistic nature of the Arab region, and in view of UN Women's commitment to participation and inclusivity, a series of policy papers on four gender thematic areas were prepared by the Arab States CSOs and Feminists Network to amplify the voice of civil society and feminist organizations and push forward the gender equality agenda.
Ce Policy Brief met l'accent sur les différentes formes d'impact de la COVID-19 sur la santé des femmes en Tunisie. Durant la première période de l'épidémie, de nombreuses prestations sanitaires ont été reportées tandis que le personnel hospitalier se consacrait à la préparation des services de santé pour s'attaquer à la COVID-19.