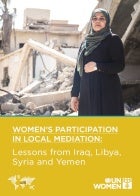 UN Women's new report "Women's Participation in Local Mediation: Lessons from Iraq, Libya, Syria, Yemen" sheds light on the diverse mediation roles women have played to resolve conflict and restore social cohesion in their communities.
The paper considers the under-representation of women in high-level mediation and peacemaking positions. Set in the context of successive normative commitments to increase the representation of women in high-level mediation, the paper considers why peace process mediation appears to be an outlier in the general trend towards gender parity in UN senior posts in particular.
"Turning promises into action: Gender equality in the 2030 Agenda for Sustainable Development", UN Women's new flagship report, provides a comprehensive and authoritative assessment of progress, gaps and challenges in the implementation of the  Sustainable Development Goals  (SDGs) from a gender perspective. The report monitors global and regional trends in achieving the SDGs for women and girls based on available data, and provides practical guidance for the...