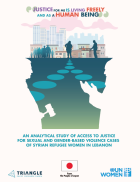 The aim of the study is to understand the pathways that Syrian refugee women utilise to access justice for SGBV cases in Lebanon, both in the state legal and judicial system (formal) and within community-based mechanisms (informal).
This study and brief aim at providing insights on how gender and other intersecting inequalities impact the risk and vulnerability to HIV for women and girls in Africa.
Il est vrai que les soins dans le secteur public ont connu une amélioration en termes d'existence de structures sanitaires et de centres de santé de base répartis sur l'ensemble du territoire. Toutefois, les violences dans certaines de ces structures, dont le milieu obstétricale, sont fréquentes et laissent des cicatrices invisibles mais douloureuses.