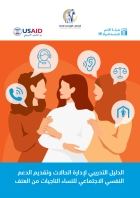 This training manual aims to build the capacity of service providers on case management and psychosocial support to women and girls' survivors of violence or exposed to its risk.
The Beijing Declaration and Platform for Action calls on Governments, the international community and civil society, including NGOs and the private sector, to take strategic action in the following 12 critical areas of concern: poverty, education and training, health, violence, armed conflict, the economy, power and decision-making, institutional mechanisms for the advancement of women, human rights, media, the environment, and the girl child.
Qualitative studies about the women in the region and their success stories. The stories you are about to read are live testaments to the fact that indeed those are difficult times but they are also full of opportunities that generate in us the continuous commitment to the work we are doing, and to the struggle we so fondly take on.