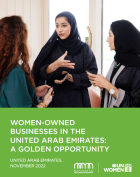 Women-owned businesses (WOBs) in the Middle East and Northern Africa (MENA) region could make significant contributions to entrepreneurial activity and countries' economic growth, but face challenges and barriers. This report examines access to finance in the United Arab Emirates for WOBs; describes government and private measures to promote women's entrepreneurship; looks at global best practices and makes recommendations for policymakers and stakeholders to improve women-owned businesses' access to financing.
The brief explores the impact of the coronavirus pandemic and its gender dimensions in conflict settings with a focus on gender-based violence (GBV), women's participation in decision-making, labour markets and livelihoods. The paper outlines gender issues and recommendations for stakeholders and national/international actors with the aim of providing effective mitigation measures and actions in response to COVID-19.
Conducted by UNDP, UN Women, UNFPA, and ESCWA, this study on Gender Justice & the Law in the Arab States Region provides a comprehensive assessment of laws and policies affecting gender equality and protection against gender-based violence in Arab countries. The report is composed of 18 country profiles, each of which maps a country's key legislative developments and gaps regarding gender justice. This introduction provides an overall summary of these country chapters followed by a...