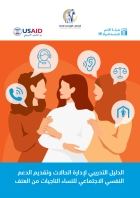 This training manual aims to build the capacity of service providers on case management and psychosocial support to women and girls' survivors of violence or exposed to its risk.
Morocco's Ministry of Economy and Finance, through its Department of Financial Studies and Forecasting (DEPF) in partnership with UN Women Morocco and with the support of the French Development Agency (AFD) and the European Union (EU), has conducted a new study on "Gender Analysis of the Contribution of Labour Utilization to Improved Living Standards: A Retrospective and Prospective Analysis in Light of the Recommendations of the New Development Model".
Women play an outsized role in the care economy in the Arab States, performing 4.7 times more unpaid care work than men – the highest female– to–male ratio anywhere in the world.