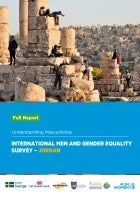 The study surveyed 2,400 Jordanian men and women aged 18-59, from 12 governorates across Jordan, as well as 512 Syrian men and women living in Amman, Zarqa, Irbid and Mafraq. The research also includes a qualitative component that involved 110 men and women who participated in 12 focus group discussions and 17 in-depth interviews.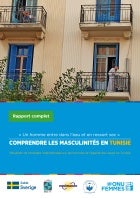 Dans le cadre de cette étude, 2 400 hommes et femmes tunisien.ne.s ont été interrogé.e.s, âgé.e.s de 18 à 59 ans, issu.e.s de plus de 120 localités à travers la Tunisie. La recherche comprend également un volet qualitatif qui a impliqué 34 hommes et 27 femmes.
Few Syrian refugee and Lebanese women participate in the labour force in Lebanon, often due to critical gender barriers: housework and childcare obligations. This is particularly true for low-income women, who participate in economic activities at lower rates than men and are often unable to afford home help. Inadequate or absent childcare services contribute to women's economic inactivity and serve as barriers that limit women's mobility.