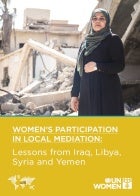 UN Women's new report "Women's Participation in Local Mediation: Lessons from Iraq, Libya, Syria, Yemen" sheds light on the diverse mediation roles women have played to resolve conflict and restore social cohesion in their communities.
With thanks to the Government of Japan, who generously funded the regional 'Women's Leadership, Empowerment, Access, and Protection (LEAP) project as well as the resilience monitoring efforts in 2020 and 2020, UN Women in Yemen was able to roll-out the gender-sensitive resilience capacity index in Al Hodaidah, Aden and Hadramout through its implementing partners, the Yemeni Women Union (YWU), Women Charity Association for Combating Poverty (WACP) and Youth Leadership Development Institute (YLDF).
This report aims to amplify the voices and experiences of Syrian, Yemeni and Iraqi women who make significant contributions to the stability and security of their communities through resolving and managing local conflict, yet whose efforts are often marginalized, dismissed and misrepresented as insignificant. Presented as a series of case studies, the report examines how women in the region engage, influence and shape local processes for conflict and dispute resolution.