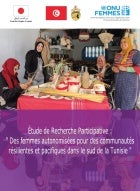 L'étude de recherche participative vient répondre aux questions suivantes: Quels sont les besoins des femmes et des jeunes filles au sud Tunisien? Quel est leur rôle dans la cohésion sociale et quelles sont les opportunités économiques pour elles? Elle vient proposer des pistes de solutions pour renforcer l'autonomisation des femmes et leur potentiel de résilience et leur rôle dans la cohésion sociale pour la prévention de l'extrémisme violent.
This brief provides a set of recommendations to take stock of health, economic and social aspects of this unprecedented crisis to develop an exit strategy and to take advantage of this exceptional period to upgrade the mechanisms and structure in Tunisia. It also makes recommendations to adopt a gender approach in government post-COVID-19 strategy.
This brief summarizes challenges and recommendations of the impact of the recent pandemic of COVID-19 in Tunisia on gender-based violence, access to justice, women and health, and women's leadership and political participation.