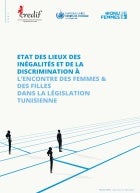 Le Bureau du Haut-Commissariat des Nations Unies aux Droits de l'Homme en Tunisie, l'ONU Femmes Tunisie et le Centre de recherche, d'études, de Documentation et d'Information sur la Femme(CREDIF) ont conjointement réalisé une étude relative à l'état des lieux des inégalités et de la discrimination à l'encontre des femmes et des filles dans la législation tunisienne en en 2016 puis mise à jour en 2021.
This brief provides a set of recommendations to take stock of health, economic and social aspects of this unprecedented crisis to develop an exit strategy and to take advantage of this exceptional period to upgrade the mechanisms and structure in Tunisia. It also makes recommendations to adopt a gender approach in government post-COVID-19 strategy.
This brief summarizes challenges and recommendations of the impact of the recent pandemic of COVID-19 in Tunisia on gender-based violence, access to justice, women and health, and women's leadership and political participation.