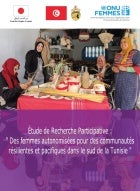 L'étude de recherche participative vient répondre aux questions suivantes: Quels sont les besoins des femmes et des jeunes filles au sud Tunisien? Quel est leur rôle dans la cohésion sociale et quelles sont les opportunités économiques pour elles? Elle vient proposer des pistes de solutions pour renforcer l'autonomisation des femmes et leur potentiel de résilience et leur rôle dans la cohésion sociale pour la prévention de l'extrémisme violent.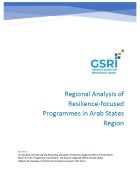 With thanks to the Government of Japan, who generously funded the regional LEAP and COVID-19 programmes as well as the resilience monitoring efforts, UN Women was able to roll-out the gender-sensitive resilience capacity index in 5 countries, namely Egypt, Iraq, Lebanon, Palestine and Yemen, through 11 of its implementing partners.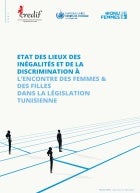 Le Bureau du Haut-Commissariat des Nations Unies aux Droits de l'Homme en Tunisie, l'ONU Femmes Tunisie et le Centre de recherche, d'études, de Documentation et d'Information sur la Femme(CREDIF) ont conjointement réalisé une étude relative à l'état des lieux des inégalités et de la discrimination à l'encontre des femmes et des filles dans la législation tunisienne en en 2016 puis mise à jour en 2021.