Palestine's Second National Action Plan for the implementation of United Nations Security Council Resolution 1325 (UNSCR 1325) on Women, Peace and Security and Subsequent Resolutions follows the first National Action Plan adopted in 2016 recognizing the disproportionate impact of conflict and occupation on Palestinian women and girls and their vital participation in peacebuilding.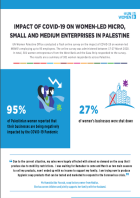 Amidst the COVID-19 pandemic, UN Women Palestine Office conducted a flash online survey on the impact of COVID-19 on women-led MSME's employing up to 95 employees. The online survey was administered between 17-27 March 2020. In total, 301 women entrepreneurs from the West Bank and Gaza responded to the survey. The infographic report shows a summary of 301 women respondents across Palestine.
Conducted by UNDP, UN Women, UNFPA, and ESCWA, this study on Gender Justice & the Law in the Arab States Region provides a comprehensive assessment of laws and policies affecting gender equality and protection against gender-based violence in Arab countries. The report is composed of 18 country profiles, each of which maps a country's key legislative developments and gaps regarding gender justice. This introduction provides an overall summary of these country chapters followed by a...