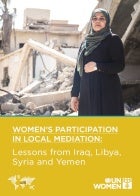 UN Women's new report "Women's Participation in Local Mediation: Lessons from Iraq, Libya, Syria, Yemen" sheds light on the diverse mediation roles women have played to resolve conflict and restore social cohesion in their communities.
The May 2021 escalation of hostilities in Gaza and the COVID-19 pandemic have reinforced pressures facing women, girls, boys and men in the OPT. Women and girls are already disproportionately impacted by gender norms and pre-existing inequalities.This Gender Alert, produced thanks to funding from the Government of Norway, tackles such inequalities.
UN Women is at the forefront of the global drive to remove gender barriers because we believe in a world of justice and human rights for everyone. Towards that end, and as the only United Nations entity dedicated to gender equality, we marshal the world's best gender expertise and the considerable resources of the United Nations. We connect people in many realms, the national and international, the public and private, activists and officials. Together, our efforts are more than any of us could pursue alone.