UN Women, the IFC and the UN Global Compact have taken action to support companies and women in the Arab States during COVID-19, recognizing that eliminating barriers to women's economic participation and empowerment drives the growth of businesses and economies and improves the lives of families and communities.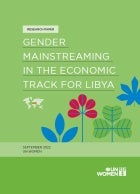 Women's economic empowerment is critical for sustainable peace and development in Libya. This study focuses on women's empowerment in the economic track of Libya's peace process. It considers the benefits of gender-mainstreaming and the normative framework that supports gender equality, including UN Security Council resolutions in relation to Libya and the Women, Peace and Security agenda, the peacebuilding framework for Libya and international human rights law.
With many businesses struggling to survive as a consequence of the coronavirus disease (COVID-19) outbreak, loss of jobs and income and rising working poverty are a reality for many workers. This document offers (interim) recommendations for employers to mitigate the negative consequences stemming from COVID-19.