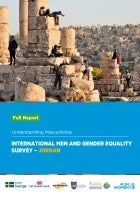 The study surveyed 2,400 Jordanian men and women aged 18-59, from 12 governorates across Jordan, as well as 512 Syrian men and women living in Amman, Zarqa, Irbid and Mafraq. The research also includes a qualitative component that involved 110 men and women who participated in 12 focus group discussions and 17 in-depth interviews.
UN Women conducted its first rapid assessment of the impact. of the COVID-19 pandemic on UN Women Oasis Centre beneficiaries in March 2020, when the first cases of COVID-19 were confirmed in the Hashemite Kingdom of Jordan. Fourteen months into the COVID-19 pandemic...
Given the unique vulnerability of Syrian refugee women to GBV and specific linkages to economic vulnerability, UN Women together with UNHCR and the ILO commissioned a study to explore the (relationships between livelihoods and protection risks for Syrian refugee women, with specific aim to ensure programming is designed to mitigate risks and maximize positive outcomes.