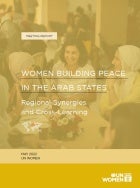 In May 2022, the UN Women Regional Office for Arab States and the Government of Finland organized a two-day workshop titled "Women Building Peace in the Arab States: Regional Synergies and Cross-Learning" to highlight women's mediation efforts in their communities and the lessons learned from interventions under the regional WPS programme and the Syria WPS programme.
This study and brief aim at providing insights on how gender and other intersecting inequalities impact the risk and vulnerability to HIV for women and girls in Africa.
Conducted by UNDP, UN Women, UNFPA, and ESCWA, this study on Gender Justice & the Law in the Arab States Region provides a comprehensive assessment of laws and policies affecting gender equality and protection against gender-based violence in Arab countries. The report is composed of 18 country profiles, each of which maps a country's key legislative developments and gaps regarding gender justice. This introduction provides an overall summary of these country chapters followed by a...