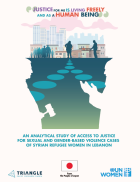 The aim of the study is to understand the pathways that Syrian refugee women utilise to access justice for SGBV cases in Lebanon, both in the state legal and judicial system (formal) and within community-based mechanisms (informal).
This newsletter captures the latest updates on the implementation of the Women's Peace and Humanitarian Fund (WPHF) in Lebanon. The newsletter includes the key highlights and achievements of the WPHF programme partners' towards enhancing women's participation in the Beirut Port Explosion's response and recovery process.
Around the world, young women are working to prevent violent conflict, recover from crises, and build peaceful, tolerant communities, yet most peace and security interventions are blind to the needs and contributions of young women. This paper examines the diverse roles that young women play in these contexts and offers recommendations for ensuring their meaningful inclusion and participation in building and sustaining peace.