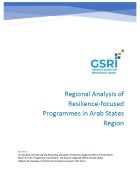 With thanks to the Government of Japan, who generously funded the regional LEAP and COVID-19 programmes as well as the resilience monitoring efforts, UN Women was able to roll-out the gender-sensitive resilience capacity index in 5 countries, namely Egypt, Iraq, Lebanon, Palestine and Yemen, through 11 of its implementing partners.
The brief explores the impact of the coronavirus pandemic and its gender dimensions in conflict settings with a focus on gender-based violence (GBV), women's participation in decision-making, labour markets and livelihoods. The paper outlines gender issues and recommendations for stakeholders and national/international actors with the aim of providing effective mitigation measures and actions in response to COVID-19.
UN Women, with financial support from the German Federal Ministry for Economic Cooperation and Development (BMZ) and in partnership with the Inclusive Peace and Transition Initiative (IPTI) at the Graduate School Geneva, organized a three-day meeting entitled Mobilizing women in the MENA region: Roadmaps for peace in Iraq, Syria and Yemen. The meeting was held in Beirut, Lebanon from 19 – 21 June 2018 and aimed to provide a space for women's rights actors from conflict affected countries to engage in closed-door strategic planning around building momentum for inclusive peace.