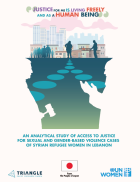 The aim of the study is to understand the pathways that Syrian refugee women utilise to access justice for SGBV cases in Lebanon, both in the state legal and judicial system (formal) and within community-based mechanisms (informal).
This newsletter captures the latest updates on the implementation of the Women's Peace and Humanitarian Fund (WPHF) in Lebanon. The newsletter includes the key highlights and achievements of the WPHF programme partners' towards enhancing women's participation in the Beirut Port Explosion's response and recovery process.
Gender equality cannot be achieved in Lebanon without dismantling the kafala system and creating legal protections for domestic workers. Women make up an estimated 76 per cent of all migrant workers and 99 per cent of migrant domestic workers who come to Lebanon for employment.