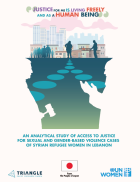 The aim of the study is to understand the pathways that Syrian refugee women utilise to access justice for SGBV cases in Lebanon, both in the state legal and judicial system (formal) and within community-based mechanisms (informal).
This newsletter captures the latest updates on the implementation of the Women's Peace and Humanitarian Fund (WPHF) in Lebanon. The newsletter includes the key highlights and achievements of the WPHF programme partners' towards enhancing women's participation in the Beirut Port Explosion's response and recovery process.
Women have been at the core of Lebanon's popular protests since they began on October 17, 2019. Assessing the first 58 days of protests, this paper seeks to contribute to the documentation of women's representation, roles, and demands within Lebanon's protests, while also examining the use of gendered language and norms by all sides of thecountry's complex landscape. It situates this action within the broader women, peace and security framework, which recognizes women as political actors and peace and security leaders and brokers.