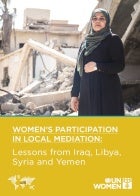 UN Women's new report "Women's Participation in Local Mediation: Lessons from Iraq, Libya, Syria, Yemen" sheds light on the diverse mediation roles women have played to resolve conflict and restore social cohesion in their communities.
UN Women conducted its first rapid assessment of the impact. of the COVID-19 pandemic on UN Women Oasis Centre beneficiaries in March 2020, when the first cases of COVID-19 were confirmed in the Hashemite Kingdom of Jordan. Fourteen months into the COVID-19 pandemic...
Given the unique vulnerability of Syrian refugee women to GBV and specific linkages to economic vulnerability, UN Women together with UNHCR and the ILO commissioned a study to explore the (relationships between livelihoods and protection risks for Syrian refugee women, with specific aim to ensure programming is designed to mitigate risks and maximize positive outcomes.