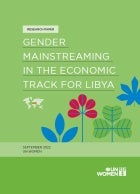 Women's economic empowerment is critical for sustainable peace and development in Libya. This study focuses on women's empowerment in the economic track of Libya's peace process. It considers the benefits of gender-mainstreaming and the normative framework that supports gender equality, including UN Security Council resolutions in relation to Libya and the Women, Peace and Security agenda, the peacebuilding framework for Libya and international human rights law.
This brief addresses the importance of women's full, equal, and meaningful participation to an effective pandemic response and to peacemaking efforts, and how the women, peace and security agenda can provide a critical framework for inclusive decision-making and sustainable solutions. It also provides preliminary analysis of the impact of COVID-19 on women's participation in ceasefires and peace processes and offers a series of recommendations, including on "building back better".
This rapid assessment examines how the impacts of COVID-19 are threatening women's ability to access justice. The assessment reflects challenges faced by women and girls of diverse backgrounds and socio-economic groups, including those experiencing overlapping disadvantages and those facing amplified challenges in humanitarian settings. Cross-regional and local experiences are highlighted, and quantitative data is utilized where available.