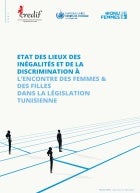 Le Bureau du Haut-Commissariat des Nations Unies aux Droits de l'Homme en Tunisie, l'ONU Femmes Tunisie et le Centre de recherche, d'études, de Documentation et d'Information sur la Femme(CREDIF) ont conjointement réalisé une étude relative à l'état des lieux des inégalités et de la discrimination à l'encontre des femmes et des filles dans la législation tunisienne en en 2016 puis mise à jour en 2021.
This manual is a compilation of the series of activities, exercises and handouts on masculinities that were used in ABAAD's masculinities trainings. The importance of this manual is that it consolidates the experiences and skills that have been accumulated throughout past trainings into a tool that provides the required information needed for a skilled trainer to conduct trainings on Masculinities and Engaging Men. Furthermore, this manual is the first contextual and culturally validated...
"Turning promises into action: Gender equality in the 2030 Agenda for Sustainable Development", UN Women's new flagship report, provides a comprehensive and authoritative assessment of progress, gaps and challenges in the implementation of the  Sustainable Development Goals  (SDGs) from a gender perspective. The report monitors global and regional trends in achieving the SDGs for women and girls based on available data, and provides practical guidance for the...