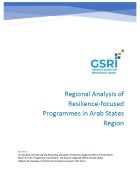 With thanks to the Government of Japan, who generously funded the regional LEAP and COVID-19 programmes as well as the resilience monitoring efforts, UN Women was able to roll-out the gender-sensitive resilience capacity index in 5 countries, namely Egypt, Iraq, Lebanon, Palestine and Yemen, through 11 of its implementing partners.
This rapid assessment examines how the impacts of COVID-19 are threatening women's ability to access justice. The assessment reflects challenges faced by women and girls of diverse backgrounds and socio-economic groups, including those experiencing overlapping disadvantages and those facing amplified challenges in humanitarian settings. Cross-regional and local experiences are highlighted, and quantitative data is utilized where available.
This brief highlights emerging trends and impacts of COVID-19 on online and ICT-facilitated violence against women and girls (VAWG). It provides examples of strategies put in place to prevent and respond to online/ICT-facilitated VAWG and makes recommendations on how different actors can best address this issue. It is a living document that draws upon the knowledge and experience of a wide range of experts.