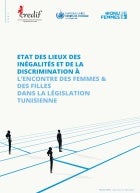 Le Bureau du Haut-Commissariat des Nations Unies aux Droits de l'Homme en Tunisie, l'ONU Femmes Tunisie et le Centre de recherche, d'études, de Documentation et d'Information sur la Femme(CREDIF) ont conjointement réalisé une étude relative à l'état des lieux des inégalités et de la discrimination à l'encontre des femmes et des filles dans la législation tunisienne en en 2016 puis mise à jour en 2021.
This newsletter captures the latest updates on the implementation of the Women's Peace and Humanitarian Fund (WPHF) in Lebanon. The newsletter includes the key highlights and achievements of the WPHF programme partners' towards enhancing women's participation in the Beirut Port Explosion's response and recovery process.
"Turning promises into action: Gender equality in the 2030 Agenda for Sustainable Development", UN Women's new flagship report, provides a comprehensive and authoritative assessment of progress, gaps and challenges in the implementation of the  Sustainable Development Goals  (SDGs) from a gender perspective. The report monitors global and regional trends in achieving the SDGs for women and girls based on available data, and provides practical guidance for the...