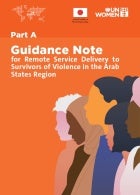 This toolkit is designed to support women-led civil society organisations (CSOs) in the Arab States region to strengthen their capacity to deliver remote services to survivors of violence against women and girls (VAWG).
This report on the proceedings of the global conference "Gender-inclusive peace processes: Strengthening women's meaningful participation through constituency building" explores current challenges, best practices, and recommendations on how best to leverage the practice of constituency building to further gender-inclusive peace.
This brief explores the implications for the provision of essential services for women and girls who have experienced violence during the COVID-19 pandemic. It provides recommendations for governments, civil society, and international organizations that are seeking to improve the quality of and access to coordinated health, police and justice, and social services for all women and girls during the crisis and provides examples of promising practices to date.