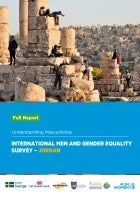 The study surveyed 2,400 Jordanian men and women aged 18-59, from 12 governorates across Jordan, as well as 512 Syrian men and women living in Amman, Zarqa, Irbid and Mafraq. The research also includes a qualitative component that involved 110 men and women who participated in 12 focus group discussions and 17 in-depth interviews.
This desk review summarises global and regional trends and best practices and techniques for reaching out remotely to women and girls who experience violence, including during lockdowns and to survivors of online violence.
Conducted by UNDP, UN Women, UNFPA, and ESCWA, this study on Gender Justice & the Law in the Arab States Region provides a comprehensive assessment of laws and policies affecting gender equality and protection against gender-based violence in Arab countries. The report is composed of 18 country profiles, each of which maps a country's key legislative developments and gaps regarding gender justice. This introduction provides an overall summary of these country chapters followed by a...