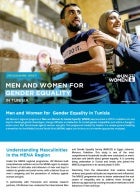 This brief presents a short description of the running programme "Men and Women for Gender Equality" in Tunisia, that seeks to mobilize men and boys to challenge gender stereotypes, change attitudes and behaviors to combat gender inequalities, and entice a change in social norms that discriminate against women and girls.
This brief provides evidence of the different ways in which women's rights organizations have been affected by the COVID-19 pandemic, highlighting the predicament that many of them face of increased relevance and demand at the same time as civic closure, restrictive work conditions, and diminishing funding.
Across every sphere, from health to the economy, security to social protection, the impacts of COVID-19 are exacerbated for women and girls simply by virtue of their sex. This policy brief explores how women and girls' lives are changing in the face of COVID-19, and outlines suggested priority measures to accompany both the immediate response and longer-term recovery efforts.