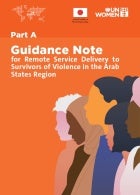 This toolkit is designed to support women-led civil society organisations (CSOs) in the Arab States region to strengthen their capacity to deliver remote services to survivors of violence against women and girls (VAWG).
Ce Policy Brief met l'accent sur les différentes formes d'impact de la COVID-19 sur la santé des femmes en Tunisie. Durant la première période de l'épidémie, de nombreuses prestations sanitaires ont été reportées tandis que le personnel hospitalier se consacrait à la préparation des services de santé pour s'attaquer à la COVID-19.
The world is rapidly changing. Families, and the role of women and girls within them, are also changing. Today, there is no 'standard' family form, nor has there ever been. In order for laws and policies to support families and meet the needs of all their members, they must evolve and adapt. Progress of the World's Women assesses the scale and scope of transformations in family life and their implications for gender equality and women's empowerment.