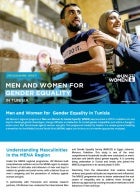 This brief presents a short description of the running programme "Men and Women for Gender Equality" in Tunisia, that seeks to mobilize men and boys to challenge gender stereotypes, change attitudes and behaviors to combat gender inequalities, and entice a change in social norms that discriminate against women and girls.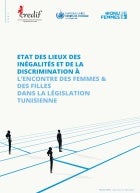 Le Bureau du Haut-Commissariat des Nations Unies aux Droits de l'Homme en Tunisie, l'ONU Femmes Tunisie et le Centre de recherche, d'études, de Documentation et d'Information sur la Femme(CREDIF) ont conjointement réalisé une étude relative à l'état des lieux des inégalités et de la discrimination à l'encontre des femmes et des filles dans la législation tunisienne en en 2016 puis mise à jour en 2021.
This study and brief aim at providing insights on how gender and other intersecting inequalities impact the risk and vulnerability to HIV for women and girls in Africa.