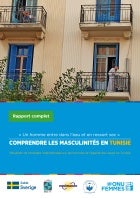 Dans le cadre de cette étude, 2 400 hommes et femmes tunisien.ne.s ont été interrogé.e.s, âgé.e.s de 18 à 59 ans, issu.e.s de plus de 120 localités à travers la Tunisie. La recherche comprend également un volet qualitatif qui a impliqué 34 hommes et 27 femmes.
This desk review summarises global and regional trends and best practices and techniques for reaching out remotely to women and girls who experience violence, including during lockdowns and to survivors of online violence.
Il est vrai que les soins dans le secteur public ont connu une amélioration en termes d'existence de structures sanitaires et de centres de santé de base répartis sur l'ensemble du territoire. Toutefois, les violences dans certaines de ces structures, dont le milieu obstétricale, sont fréquentes et laissent des cicatrices invisibles mais douloureuses.