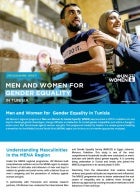 This brief presents a short description of the running programme "Men and Women for Gender Equality" in Tunisia, that seeks to mobilize men and boys to challenge gender stereotypes, change attitudes and behaviors to combat gender inequalities, and entice a change in social norms that discriminate against women and girls.
Le rapport a pour objet une veille normative sur les différentes mesures prises en Tunisie pour faire face à la crise de la Covid-19 durant la première vague (mars - août 2020) sous l'aune de l'approche genre.
Il est vrai que les soins dans le secteur public ont connu une amélioration en termes d'existence de structures sanitaires et de centres de santé de base répartis sur l'ensemble du territoire. Toutefois, les violences dans certaines de ces structures, dont le milieu obstétricale, sont fréquentes et laissent des cicatrices invisibles mais douloureuses.