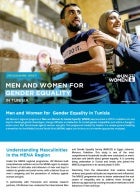 This brief presents a short description of the running programme "Men and Women for Gender Equality" in Tunisia, that seeks to mobilize men and boys to challenge gender stereotypes, change attitudes and behaviors to combat gender inequalities, and entice a change in social norms that discriminate against women and girls.
UN Women is at the forefront of the global drive to remove gender barriers because we believe in a world of justice and human rights for everyone. Towards that end, and as the only United Nations entity dedicated to gender equality, we marshal the world's best gender expertise and the considerable resources of the United Nations. We connect people in many realms, the national and international, the public and private, activists and officials. Together, our efforts are more than any of us could pursue alone.
Le rapport a pour objet une veille normative sur les différentes mesures prises en Tunisie pour faire face à la crise de la Covid-19 durant la première vague (mars - août 2020) sous l'aune de l'approche genre.