Situation Report: Arab States COVID-19 and Gender Equality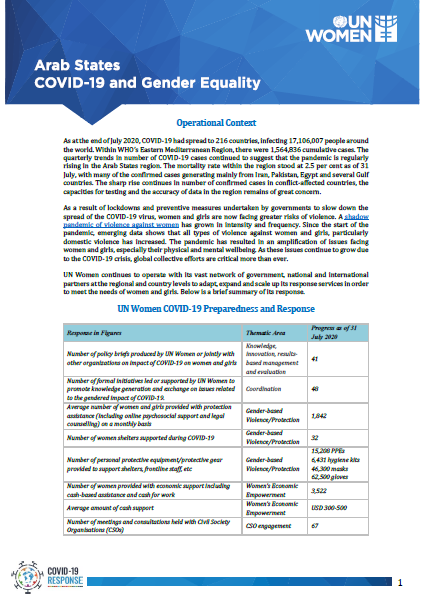 Women and girls in the region continue to experience the impact of the pandemic at a different depth and breadth. The impact of COVID-19 on their lives is of great concern as emerging studies and assessments indicate that gender-based discrimination and violence against women and girls in the public and private spheres in the Arab States region has worsened since the start of the pandemic. Since the onset of the pandemic, UN Women has operated with its vast network of government, national and international partners at the regional and country levels to adapt, expand and scale up its response services in order to meet the needs of women and girls.
This series of situation reports aim to capture UN Women's work in response to the COVID-19 pandemic across the Arab States region, including operational context, preparedness and response, evidence and data generation, innovations in programming, coordination and partnerships, media and communication, gaps, challenges and financial requirements.
View online/download
Bibliographic information